The Design Sommelier: Sip Something Beautiful
Ahhh, vacation. Isn't it amazing what a change of scenery can do to inspire, teach, and rejuvenate? To understate the obvious, it's been a tough year, and everyone we know is positively jonesing for a getaway. Even if our passports are sporting spiderwebs instead of new stamps this year, you can still book a virtual 'flight of fancy' before the sun sets on summer.
This week, we're rethinking what it means to get away from it all. After reminiscing about some of our favorite global travels, spa spaces, and waterfront wonders on IG, we're distilling the essence of vacation into tangible ideas that anyone can capture closer to home. We'll also reveal a few design tricks to bring a sense of calm and order to your environment, wherever you are.
And YES!! Because you asked for it, we're featuring our recent project in Park City, Utah, which will inspire visions of cooler days, a slower pace, and cozy moments. Soak. This. In.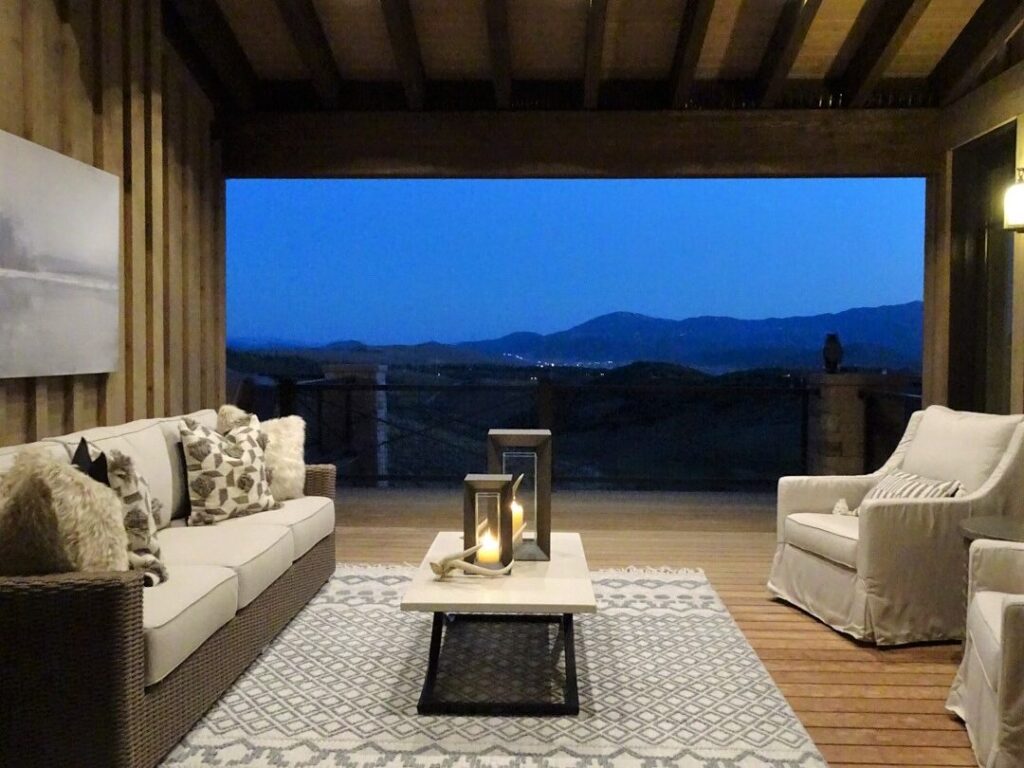 The stars aligned for this project: it starts with a great client, who trusted our vision of a distinctly modern take on a rustic mountain retreat. Thanks to the talented Cody Beal– who also happens to be a former colleague—the home already had great 'bones' as we call them in the design world. Beautiful interior finishes, from the reclaimed beams down to every last detail; we didn't have to change a thing. The final design came together just under a year's time, executed with former colleague Theresa Granados and team.
So, what is it about a retreat that soothes the soul? This RH-inspired mountain home design works because it plays on familiar elements in a fresh, luxurious way. Leather, fur, rustic timbers and a hint of flannel? Check! Dark, musty hunting lodge? Heck no!
Striking a balance between rugged textures, bold silhouettes, and more feminine natural elements makes this home feel personal, yet universally welcoming. With this home's six well-appointed bedrooms, family game area, home theater, incredible deck views, and this much GORGEOUSNESS, guests will never want to leave.
But maybe that's the point. Sometimes getting away really means reconnecting. Thoughtful design should include spaces for private reflection, as well as gathering, conversation, and meals. Keep that in mind for your next staycation.
Pay attention to these subtle design tricks you can replicate at home:
1. Go au naturel
You know I love a good neutral color scheme—no brash hues here to disturb the sense of calm. There is a time and place for Caribbean colors (we'll talk tropics another day!). This home is all about its setting, and the natural shades and textures connect the interiors to the wonders outside, letting you focus on what's really important.
2. Stop texting, start texturizing.
When you go neutral, texture becomes even more crucial. Layering chunky, wooly, furry, fleecy, and nubby upholstery is like furnishing your home with hugs, offering visual interest and oh-so- touchable pleasure simultaneously. Who couldn't use more connection? C'mon, you know you wanna snuggle! Listen, fall is coming, and a single faux fur throw will turn any corner chair into a luxe holiday reading lounge without breaking the bank.
3. Opposites Attract
Don't forget to contrast the layers: notice how the rugged textures play against refined; dark tones seem bolder against light; geometric lines and symmetry emphasize organic forms?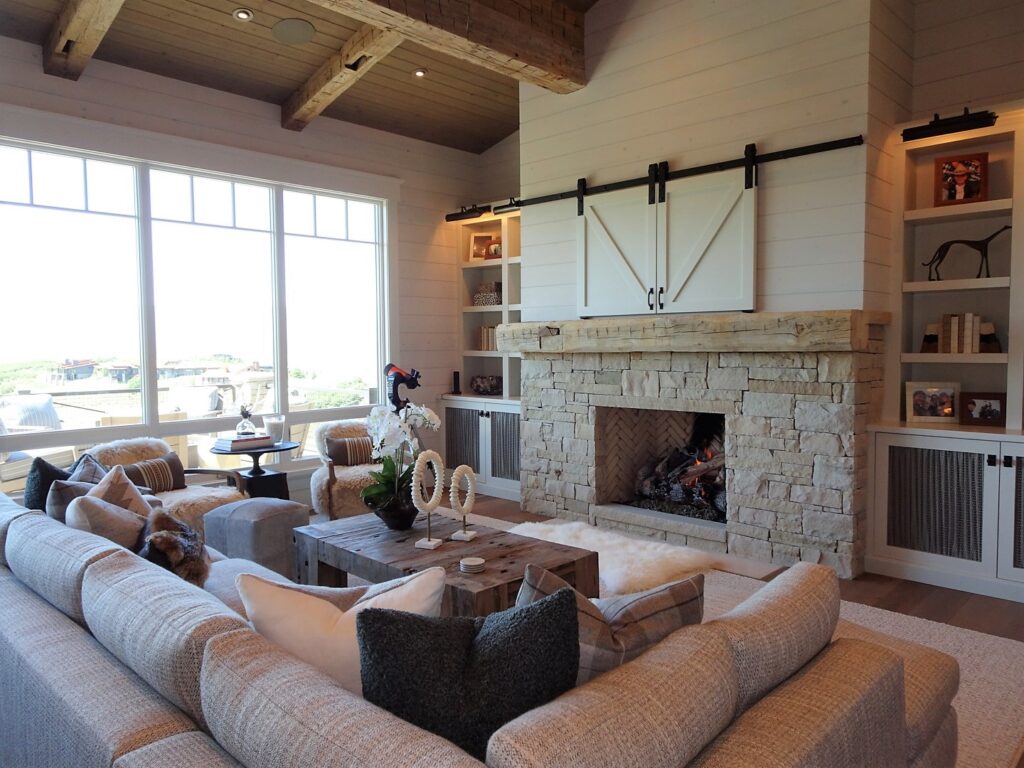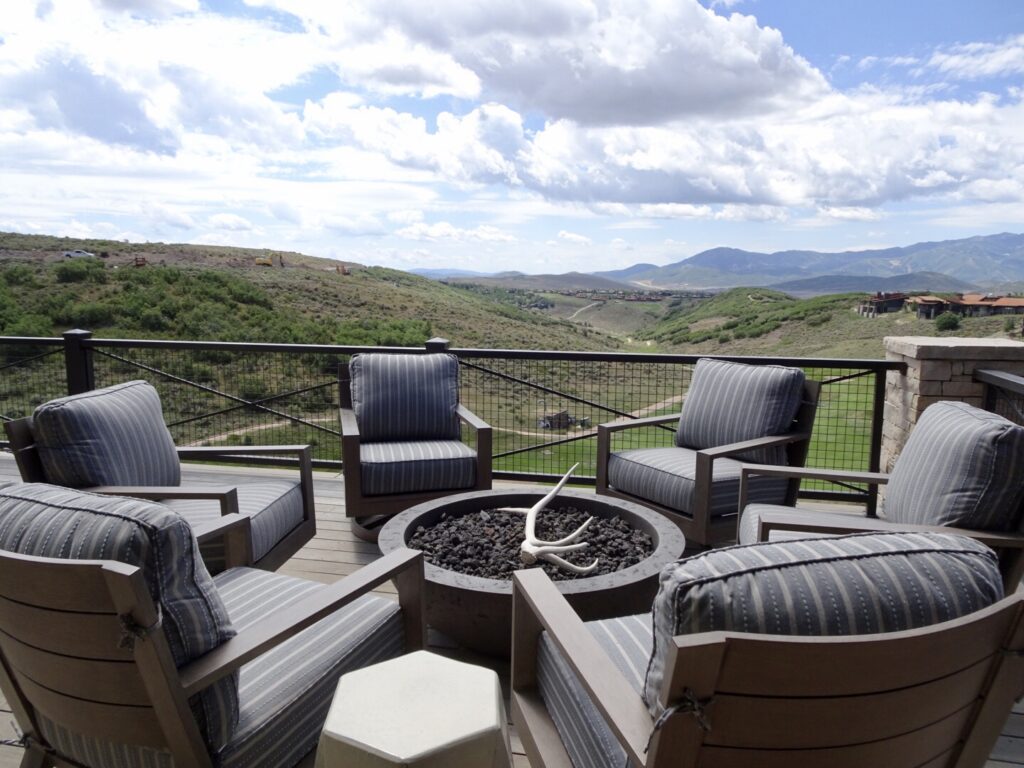 4. Go Big or Go Home
The lofty ceilings, large rooms, and endless vistas called for bold furniture to match the scale. How to keep the spaces from feeling cavernous, cluttered, or cold? First… less is more! Look what a single huge antler does for this otherwise accessory-free deck setting (above). Also, more is more! Small can be mighty when used in multiples or in a cohesive grouping, like these two art installations show (below). See how each example incorporates a variety of textures, tones, and geometry, yet restrains the use of color and form to turn many smaller objects into one high-impact element.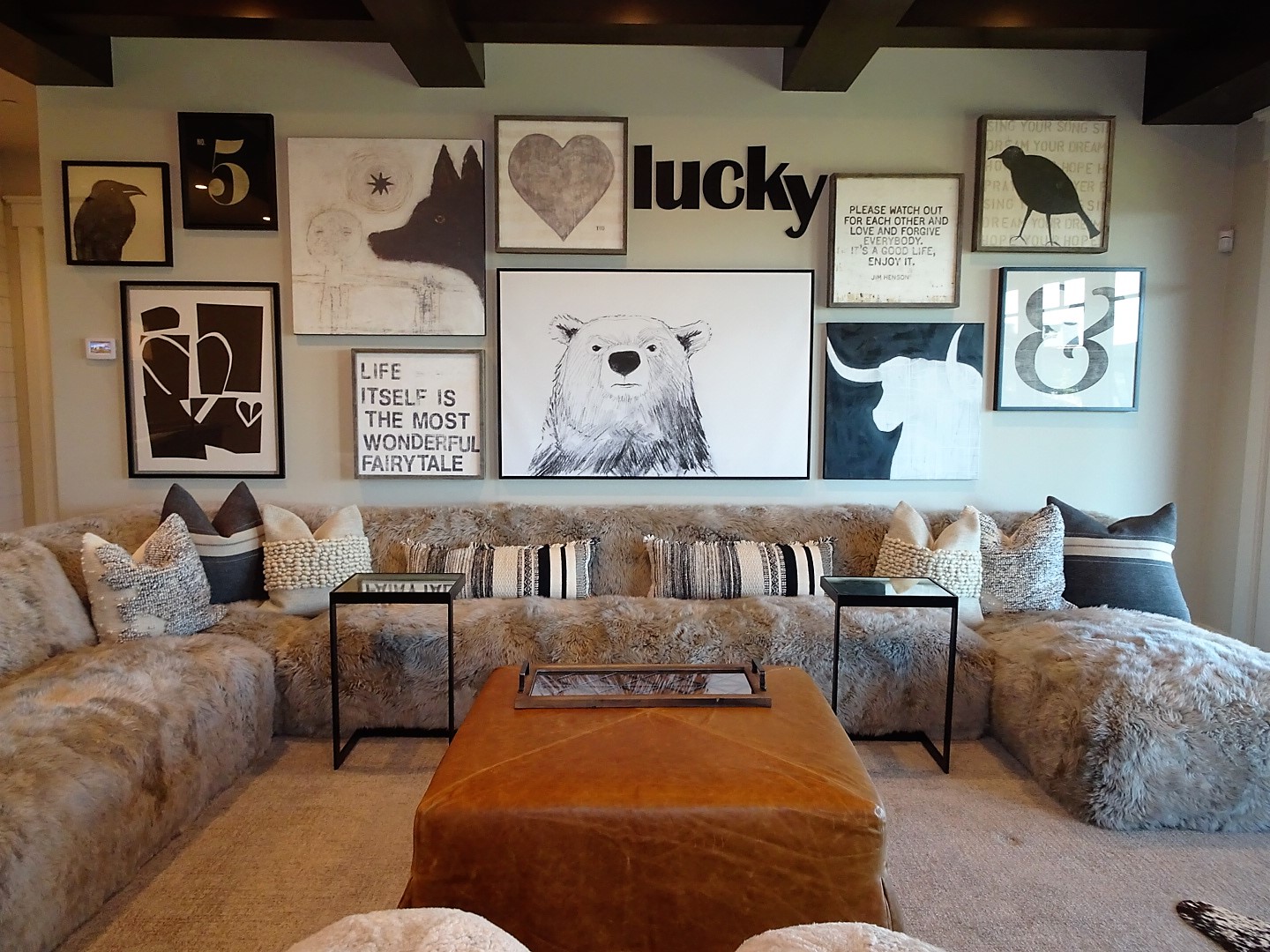 5. It's Curtains for Curtains!
Finally, let's keep this simple. Retreats are about comfort, quality time, and blurring the boundaries between indoors and out. With views like this, there's no point in fussing over window treatments. One exception? Blackout lined drapes in the bedroom provide the best privacy, acoustic benefits, and the option to cocoon til noon!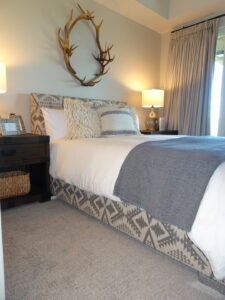 Sigh… well, that was fun. Now… back to work!